About Down N Durdy
We're a Arizona 501c(3)
82-1012327
The people behind Down N Durdy
Many of us have been impacted by a motorcycle accident, ourselves or our friends and loved ones. For this reason, we want to help. We realize that even after the stays in the hospital, the broken bones and physical therapy, there are more needs than meet the eye.
Together, we want to welcome you into our community and lend a helping hand.
OUR MISSION
Is to provide love, support, and financial assistance to riders and their families when they are injured in a motorcycle accident.
Chris \"Skippy\" Noll
I was born in Las Cruses, NM (my father was in the Army, and we were stationed at White Sands Missile Range) on August 15 1975, but was living in Tempe by the age of 5. Tempe and Chandler were my stomping grounds growing up. I went to Corona Del Sol high school in Chandler, where I met my lifelong Brothers. I played ice hockey in my teens. I played on house teams and travel teams playing hockey all over the United States. My travel team even traveled to Austria for an international tournament.
I'm happily married to Amelia Bontrager since 2015. I have an awesome son, Sean Noll, born in 1999. My wife and I adopted a rescue dog in 2020, named Kitty-B. She loves riding on the motorcycle with us.
I'm a Chef and a Welder by trade, but currently building trike conversion kits for Champion Trikes of AZ. I help turn motorcycles into trikes.
I didn't own my first Harley till 2016, but the dream of riding a hog was always there. I currently ride a 16 Road King that I've done some engine modifications on.
My passion for riding led to me giving back to the community by going on Veteran charity rides, and then eventually to giving back to the motorcycle community by Co-founding Down N Durdy.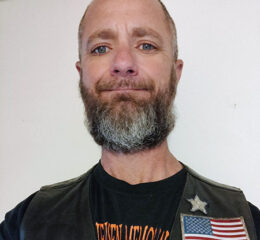 Heath \"Ironman"\ DeRoiser
I grew up riding on the tank of my dad's Harley, been riding off and on for many years.
I bought my first OWN Harley at the age of 43. I had my first severe motorcycle accident a few years ago… After my rehabilitation it became clear to me that other accident victims would be in need of help as I was.
So, I dedicate my time to Down N Durdy raising funds for others that are recovering.  I hope they never need us, but we are here.
Roy \"Florida\" Katner
Hello there, my name is Roy Katner, also known as Florida Roy, Florida, or Flo. I'm 54 years old. I was an Air Force brat up till my dad retired in 79. We moved around for a while and ended up settling our family back in Pensacola in 1984. I lived and worked there until moving to Phoenix in 2002.
I've met some amazing people and have become lifelong friends with some fellas that I now call my brothers. I love to ride, have had several bikes but finally got my first Harley in 2016.
I am a proud co-founding member of Down N Durdy. To be able to help folks, and be a part of this amazing motorcycle community, is an honor and a privilege. I hope to be able to continue to do so for as long as possible. 
Dan \"Carpethead\" Smith
My name is Dan Smith aka Carpethead. I was born in Fridley Minnesota.
I moved to Arizona in 1988 and went to school in Chandler and Highschool in Tempe at Corona Del Sol, where I met some of current Down-n-Durdy brothers. My hobbies are traveling and riding my Harley Heritage Softtail.
I enjoy helping out our Down N Durdy survivors in their time of need.
Brian \"Brain\" Howland
My name is Brian Howland. I grew up in Michigan for 13 years then moved to California, Arizona, Hawaii, and then back to Arizona.
I've been riding some sort of motorized vehicle since I was 12, whether it be quads, dirt bikes, or 4×4 but have always wanted a Harley Davidson since I was young. Thought I was going to get my 1st at 18, then 21, then finally I got one for my 25th birthday and have had 3 so far, a 2003 custom Sportster, then a 2007 Nighttrain and now I'm riding a 2009 Road Glide.
I am an avid Raiders fan, and also a Redwings fan. 
I'm proud to be helping with such a worthy charity as Down N Durdy.